2021
The government is adopting several measures to improve the quality of education, vocational training & numbers are slowly but surely improving.
2021
Identifying brand influencers have always been a marketing strategy. But, today these influencers are beyond celebrities and micro-celebrities.
They are the community and local heroes who influence the scores of consumers, media, and politicians on various platforms.
2021
Why do we need to have T20 World Cup & IPL in March & April? These period sees crores of students appearing for their exams especially board exams. These exams not only decide their future but also of India as they are the future of India. Do think !
(First Posted: 2016)
2020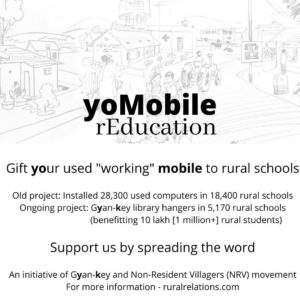 2020
2019
greater consciousness of what needs to be left for the next generation: more literacy and less discrimination (economic & social).
1) गाव पढ रहा है, देश बढ रहा है|
2) A cash-less and "caste-less" Bharat.
2019
A slow yet steady rise is being seen in quality of work force, largely due to improved quality of education and vocational training courses. A number of governmental initiatives have been key to driving this development.
2019
Ironical that the largest agrarian economy, with the worlds largest elementary education system, doesn't have agriculture as a subject in schools.
2019
70 years on, Pune District continues to be managed by a single Collector/DM. What is different since 1949 is – the population has grown from 5 lakhs to 94 lakhs (9million+). Technology led solutions help vastly, but is more needed. …?