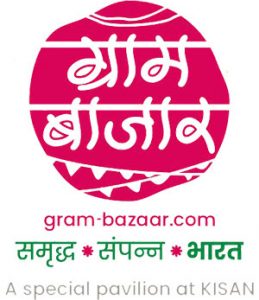 The Largest Gathering of rural India
Meet 1,70,000+ Decision Makers & Influencers from 500+ districts of 23 states
Display your products & Services here
Connect with Bharat
Gram Bazaar is a platform to meet the most progressive Farmers. Interact with them. Understand their needs and aspirations. Offer them solutions to make their life comfortable and prosperous.Enhance your brand's presence among The Top of the Pyramid. It's your opportunity to put your Brand at the Top of their mind. Join the leading Brands at Gram-Bazaar.
Come, let's build a prosperous Bharat.
Your Audience
KISAN Agri Show is being hosted for past 30 years and attracts 170,000+ visitors in 5 days. All progressive Farmers from distant villages.
Each one of them will Pre-register online through KISAN app with a verified Mobile number. Yes, they pay Rs. 150/- per person to enter the Show. This is to ensure, you meet a genuine person.
Here, you will meet Local Heros with an influence over 5000X progressive farmers. Yes, you can continue this dialogue later through KISAN app.
| Stall Type | Area (in sq.m.) | Rate (in Rs. per unit) |
| --- | --- | --- |
| Prefabricated Stall | 9 & Above | 7,000 |
| Covered Bare Space | 30 & Above | 6,000 |
* 18% GST applicable on above rates
Surcharge for stands with Vantage Position
2 sides open : 25%
3 sides open : 40%